La Sportiva Mystery Mountain Dash
If you stand on the Hotel balcony and look across at the Wolgan River you will come face to face with Mystery Mountain. Its an imposing sight, rising from the river bed straight up….there is a rough trail to the top…. its rocky, tough and challenging. Its 370m elevation gain… The distance is just over 900m.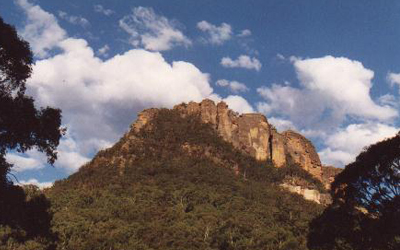 The Mystery Mountain Challenge is an individual time trial styled challenge, pitting runners against the Mountain… Participants will start at the old railway platform and finish on top of the mountain.  The challenge is done two runners at a time…. Its hard… the fastest recorded time is by Andrew Lee in 2015 – just on 13 minutes……. We don't mind who has a crack – we will cheer you on regardless of your time. Some runners take almost 20 minutes to run that kilometre.