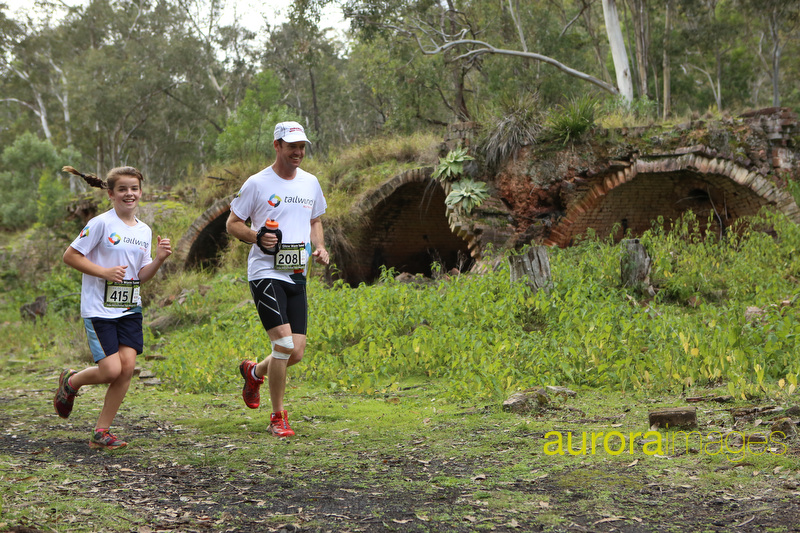 Course Description
The Ted English Bolt is a 6km Fun Run through the ruins of the old Newnes Industrial area. Stretch the legs, get to know your surrounds.
This run crosses the Wolgan River at the Causeway and heads toward the old Industrial Ruins. Along the way runners pass the old railway platform and the old Newnes Cricket ground. A quick tour past the old ovens and through the old ruined buildings and return to the event hub for a fast finish along the flat.
Distance: 6km, 200m Ascent
Map and Profile: Here
Contingency Course if Wolgan Road is still closed:
We will come up with a 6-7km course to replace the Ted English Bolt if there is no access to Newnes. The Start/Finish location of this contingency route is pending NPWS approval
---
Ted English …
On the evening of Wednesday April 3rd 1907, records show that the police at Newnes apprehended a man named Ted English, a local resident who was running through the bush stark naked, declaring he was Jesus Christ and he had come to deliver justice to the residents of Newnes. Senior Constable Guerin took Ted into custody but he refused to stay, again bolting through the bush and delivering his message with gusto. Eventually he was arrested and transported to Lithgow on Thursday evening, insisting he was indeed Jesus Christ.
We consider Ted a prime example of a pioneer of Trail Running in the Newnes area at the turn of the century and in honour of his first documented run, there will be a leisurely 6km fun run in the afternoon. The Ted English Bolt will tour the old industrial ruins and the Newnes Township and is a great opportunity to stretch your legs and see the sites.
---
Note: This run is suitable for the whole family. If your kids want to run – this is a great run for them. Kids of primary school age or younger with limited running experience should be accompanied by a parent or guardian.