Newnes is in the Wolgan Valley – north of Lithgow.
The event is in Newnes, NSW.  You access the event hub via the Wolgan Valley Rd.
From Sydney
Head west from Sydney across the Blue Mountains, either via Katoomba or via Richmond and Bell. Pass Lithgow and take the Castlereagh Highway toward Mudgee. About 3-4 kms along the Castlereagh Hwy is the Wallerawang Power Station on the left and a service station on the right. Watch for the advance signs saying "Lidsdale". Turn right here onto the Wolgan Road. Drive through Lidsdale – be careful of the speed through town – it is 50km/hr. There is often a speed trap here.  Follow this road all the way to the end – it is 34kms. The road to Newnes is now sealed up until the old corn paddock!
From Bathurst
Follow the Great Western Hwy to the Castlereagh turnoff to Mudgee and then as above.
From Mudgee
Follow the Castlereagh Hwy toward Lithgow – turn off to Lidsdale and follow directions above.
B Marks the spot on the map below.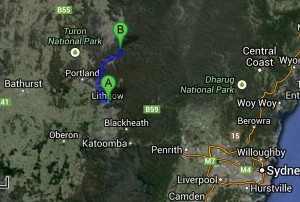 To get to Newnes from Katoomba – Click HERE
To get to Newnes from Bathurst – Click HERE
To get to Newnes from Mudgee – Click HERE
To get to Newnes from Chamonix – Click HERE
Notes:
The road is perfectly negotiable by 2WD cars.
Overnight Campers in the event hub camping can park in the overnight parking as marked.
The local council will ensure the road is graded prior to the event.