There are two main campgrounds at Newnes. One is a privately owned camp ground and you need to book and pay for it – the other is free and no booking is needed.
Campground 1: The Hotel Campground.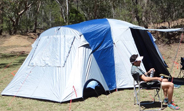 This camp ground is privately owned by Thomas at the Newnes Hotel. The space is directly on your left and right as you pass through the "Newnes" sign and enter Newnes. It stretches all the way up to the hotel. Up opposite the hotel we set up the event hub. At the event hub we have Portaloos and Catering as well as the start / finish for all events except the Mountain Dash. The event hub is where any entertainment will be situated as well. There is also a toilet block with flushing toilets available at the Hotel. Hot Showers are also available at $5 per person. Campfires are welcome in certain enclosures.
You can book a camp spot in the Hotel Campground when you book your entry and catering online. You must be booked in to camp here.
Campground 2: The NPWS Campground.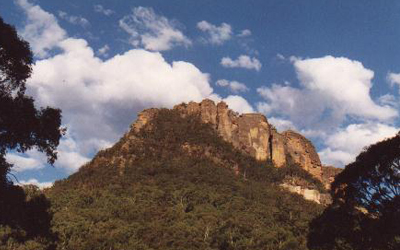 Approximately 900m from the Newnes Hotel you will find the NPWS Campground. It is large and free to use. There are two pit toilets. The campground is beautiful and surrounded by cliffs on two sides and the Wolgan River on a third side.  There are often Kangaroos in the area. You are welcome to have a campfire at your campsite. During event times the access by car will be limited for safety reasons.
You do not need to book in to use this camping area.
Other Campgrounds:
Across the Wolgan River (4WD access only) there are more campgrounds available. You do not need to book to use these – first in best dressed. Note – 4WD access will be limited during event race times on both Saturday and Sunday.