Mandatory Gear is there purely for the safety of runners. As the name suggests – it is mandatory.
There are two lists of gear.
1) Fine Weather Gear – this is the minimum you will be required to run with on any day regardless of the weather.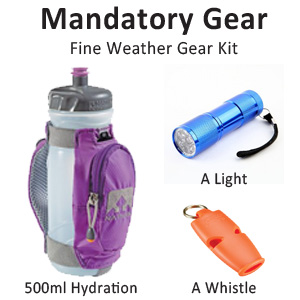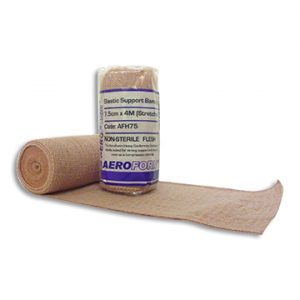 500ml Hydration
Whistle
Light
Snake Bandage
2) "Not so Fine" weather Gear – this may be required in addition to the Fine Weather Kit if the weather is … Not So Fine!!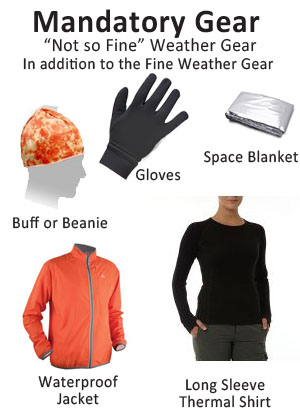 Beanie or Buff
Gloves
Space Blanket
Thermal (Merino or Polypro)
Waterproof Jacket (Taped seams)
From the Race Directors perspective – the aim is to allow runners to run the event with as little gear as possible WITHOUT compromising their safety.
In the interest of getting the kit down to a bare minimum on the day – the call for "Fine Weather" or "Not so Fine Weather" Kits will be announced at 6am on the morning of the event. You need to have both kits ready!!
We suggest you have your "Not so fine" weather kit packed into a hydration pack or similar.
NO KIT NO START!!
Gear checks will be done at some of the Aid Station along the way as well as at the finish. If you do not have all the gear at either – you will either get a time penalty or a disqualification